This past year, we've onboarded mission-driven communities on Coinvise. For these autonomous and decentralized communities to thrive, it's become obvious that coordination is vital.
Web3 communities are unlike traditional companies—they enable fluid collaboration and provide flexibility. Yet, the fluid nature of these communities makes it more challenging to onboard new talent and incentivize active participation.
To solve this, we've been hard at work building a toolkit with the essentials that enable creators to build impactful web3 communities. With this update, we want to cover three core objectives:
Composability - Tools on Coinvise (Token creation, airdrops, quests, vests) are now embeddable as widgets in profiles. This enables creators to build a customized home that's unique to their community.
Participation - Profiles now feature active airdrop campaigns, quests & more. This creates powerful ways for creators to incentivize continued participation & retain members by distributing ownership.
Communication - Make information open and easily accessible for community builders and members to collaborate.
Going forward, we aim to introduce monetization for communities and continue to offer rich functionality for community tokens with our toolkit. In this update, we've revamped our platform where community building will feel like a game.
Introducing a New Dashboard for Web3 Communities
The Dashboard on Coinvise is the central console for dozens of tokenized communities builders. This is where they make decisions and take action.
With the "Widgets" tab, community builders have easy access to our wide range of tools and can take action in seconds.
Because we believe our platform should be easily accessible to all, not just crypto-native people, we've added a '"Getting Started" section, helping anyone use our tools through easy-to-understand guides.
Better education & easy onboarding flow will help onboard the next millions of Web3 users.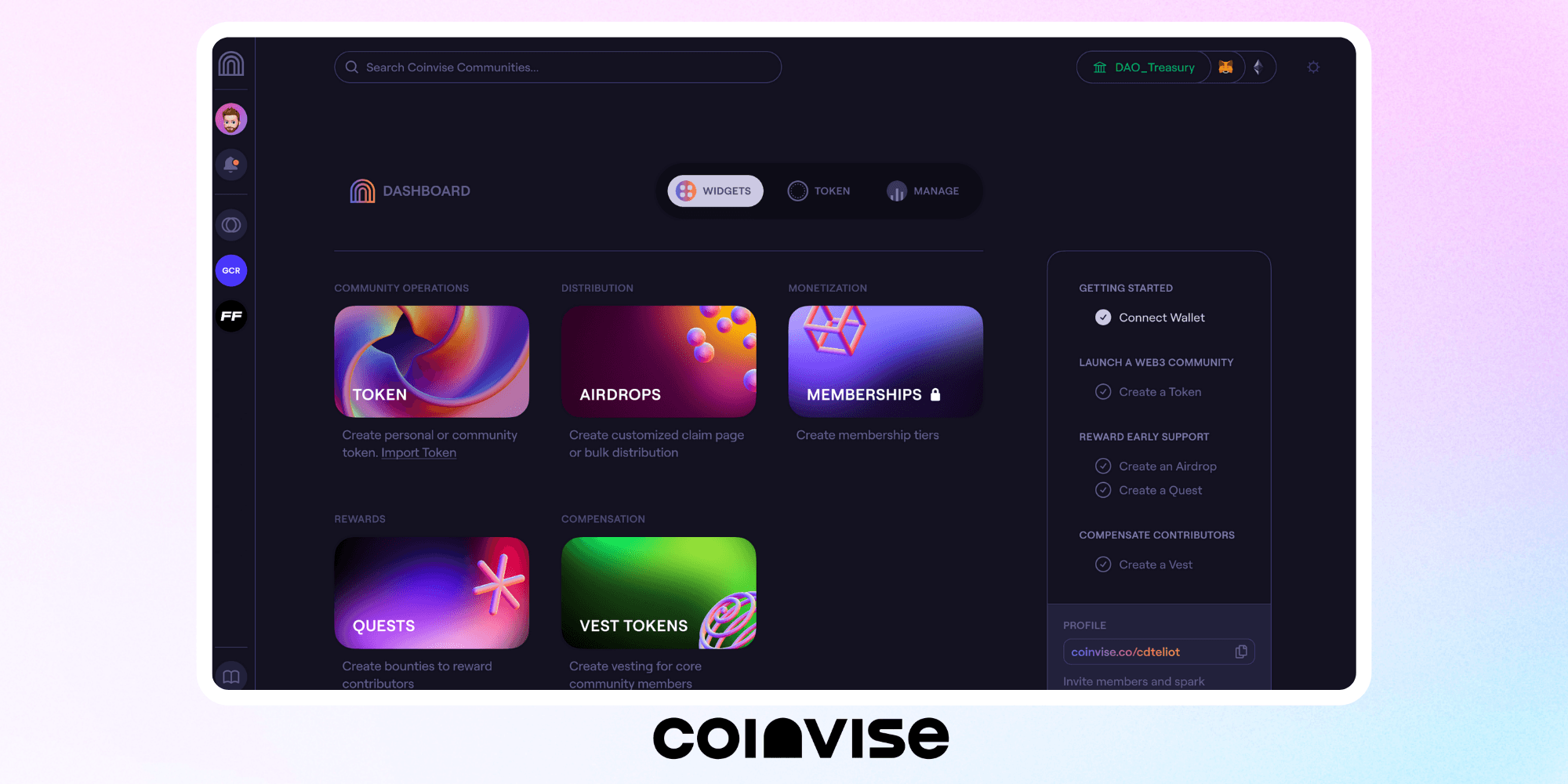 Token — Tokenomics Overview, Coinvise Bridge & Pause
With the "Token" tab, community builders have easy access to relevant information regarding their tokens. Whether to know their number of token holders or their community's top backers, this new tab will help them make strategic decisions on the future of their project.
With access to key metrics, like the number of unique token holders, we're making it easier for creators to quickly access the information they need to make informed decisions on the future of their community.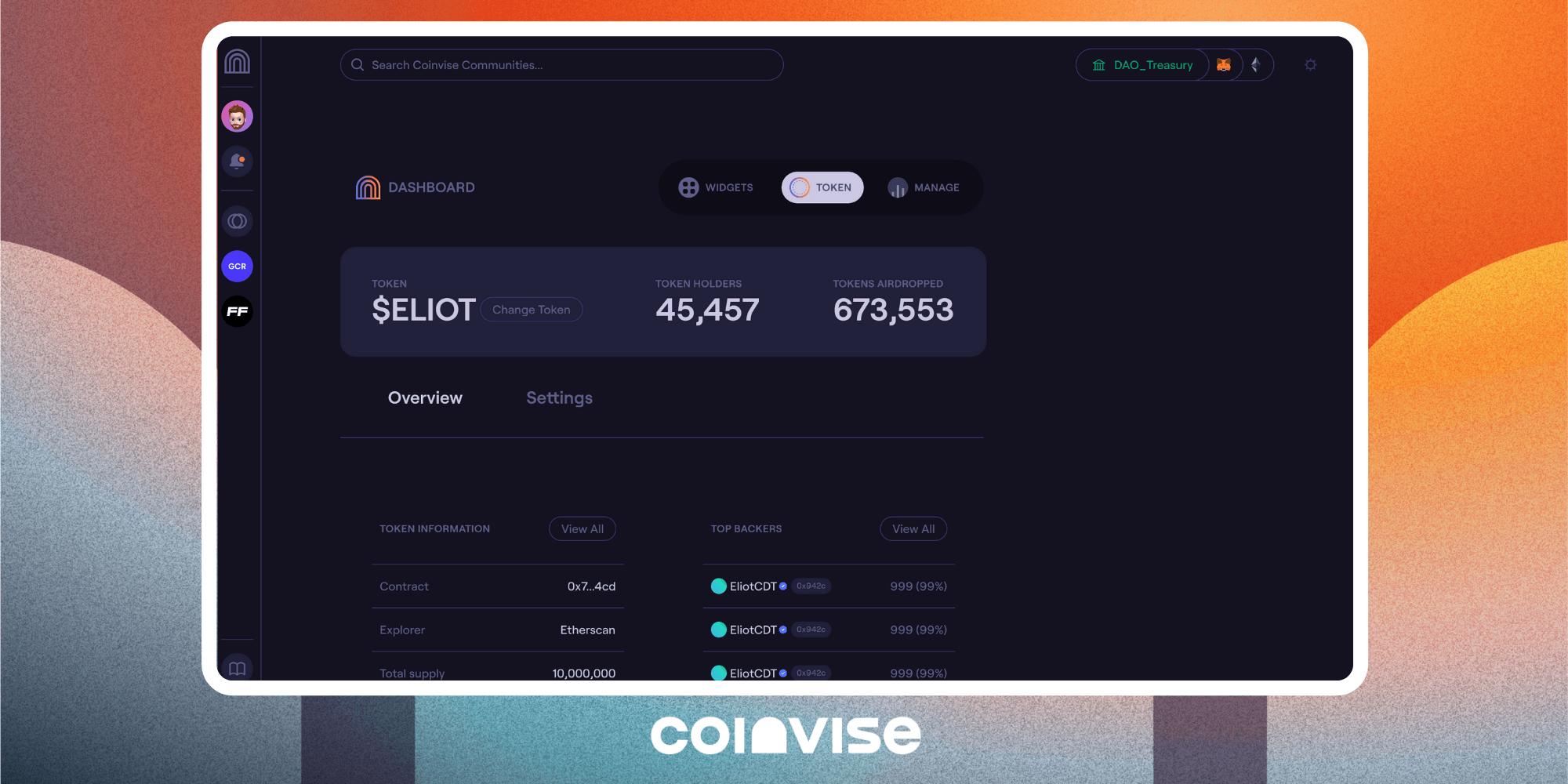 Manage — Airdrops, Quests & Vests
Creators can now manage Airdrops (Withdraw, Claim, Stop), Quests (Deactivate), or Vests (Access Details) all from one place with easy access to every detail they need about current or past initiatives.
We've also added support for controlling visibility on active airdrops, quests or vests suitable for gated communities.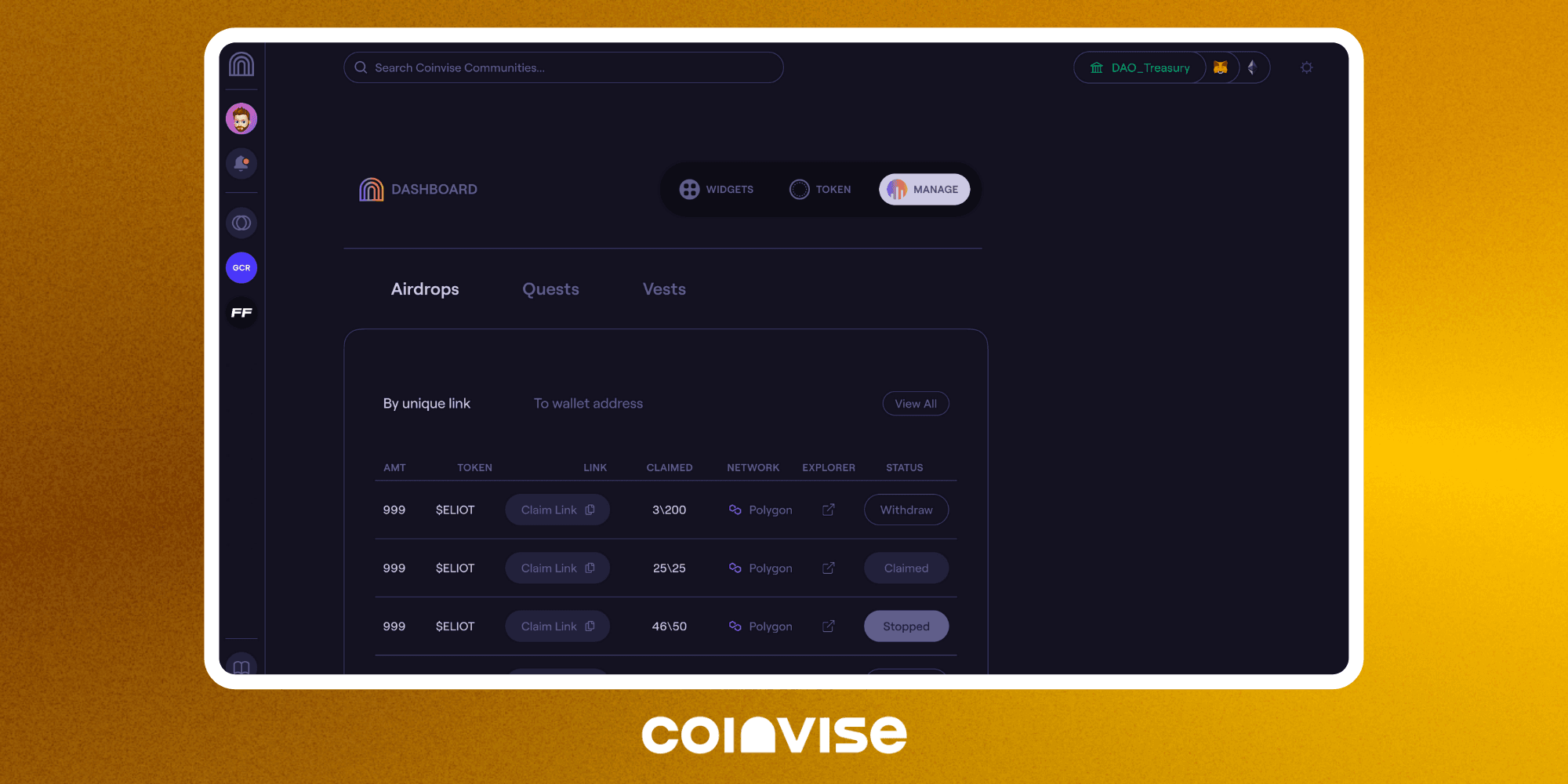 On Coinvise, your profile is the homepage for your community.
Profiles showcase useful information about your community, tokenomics, active airdrops or quests to incentivize participation from community members or exclusive updates for community members with the activity feed.
These new features are built to ensure members can meaningfully participate in seconds.
The community tab showcases relevant token information, mutual ownership between people you already follow and useful links to the project. We've also added recommendations to communities that you might like, based on the ones you're already a part of.
But that's not all…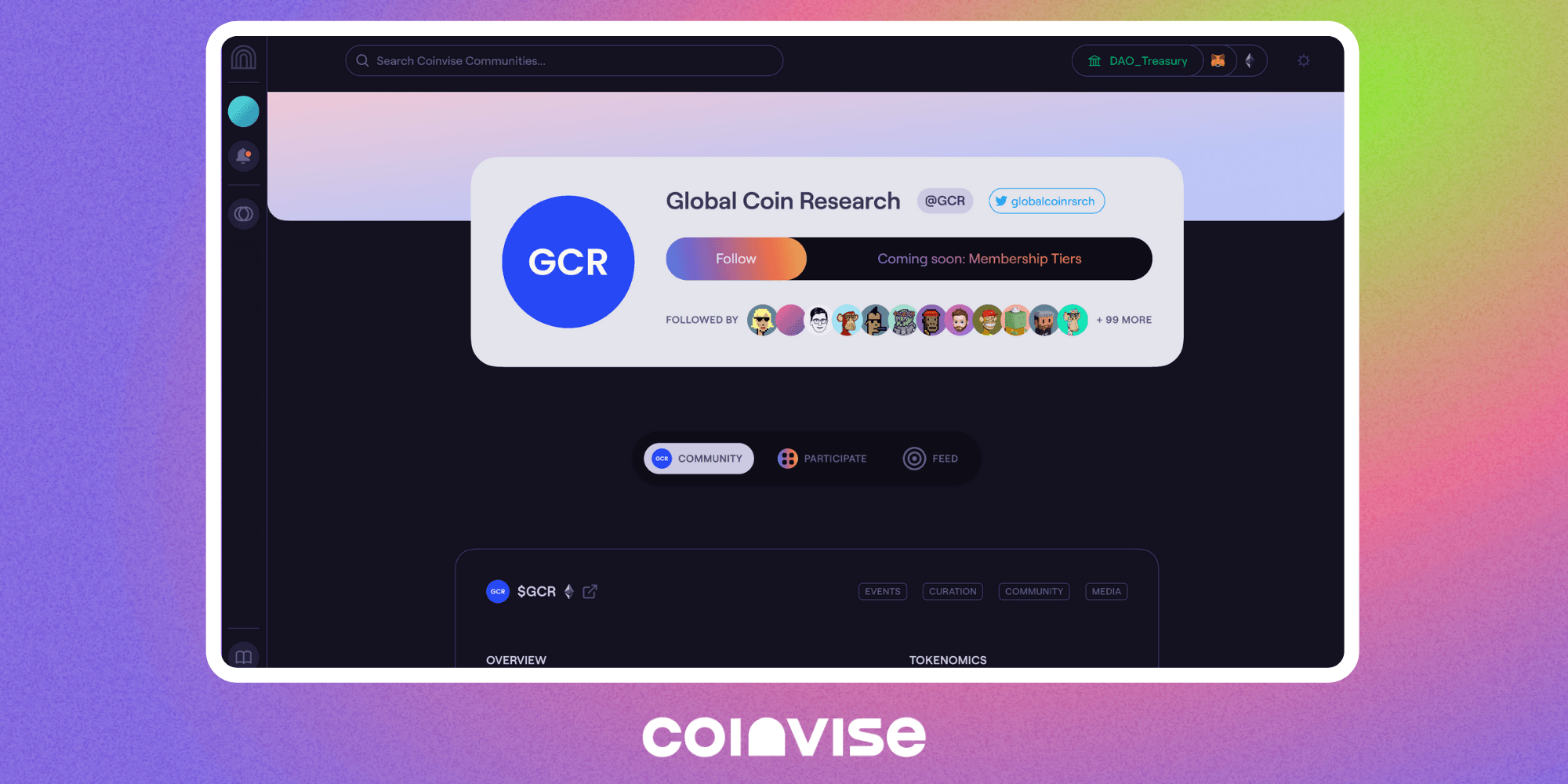 Through Coinvise profiles, you can view token reputation to better understand the community. This is calculated based on average token holding time by community members.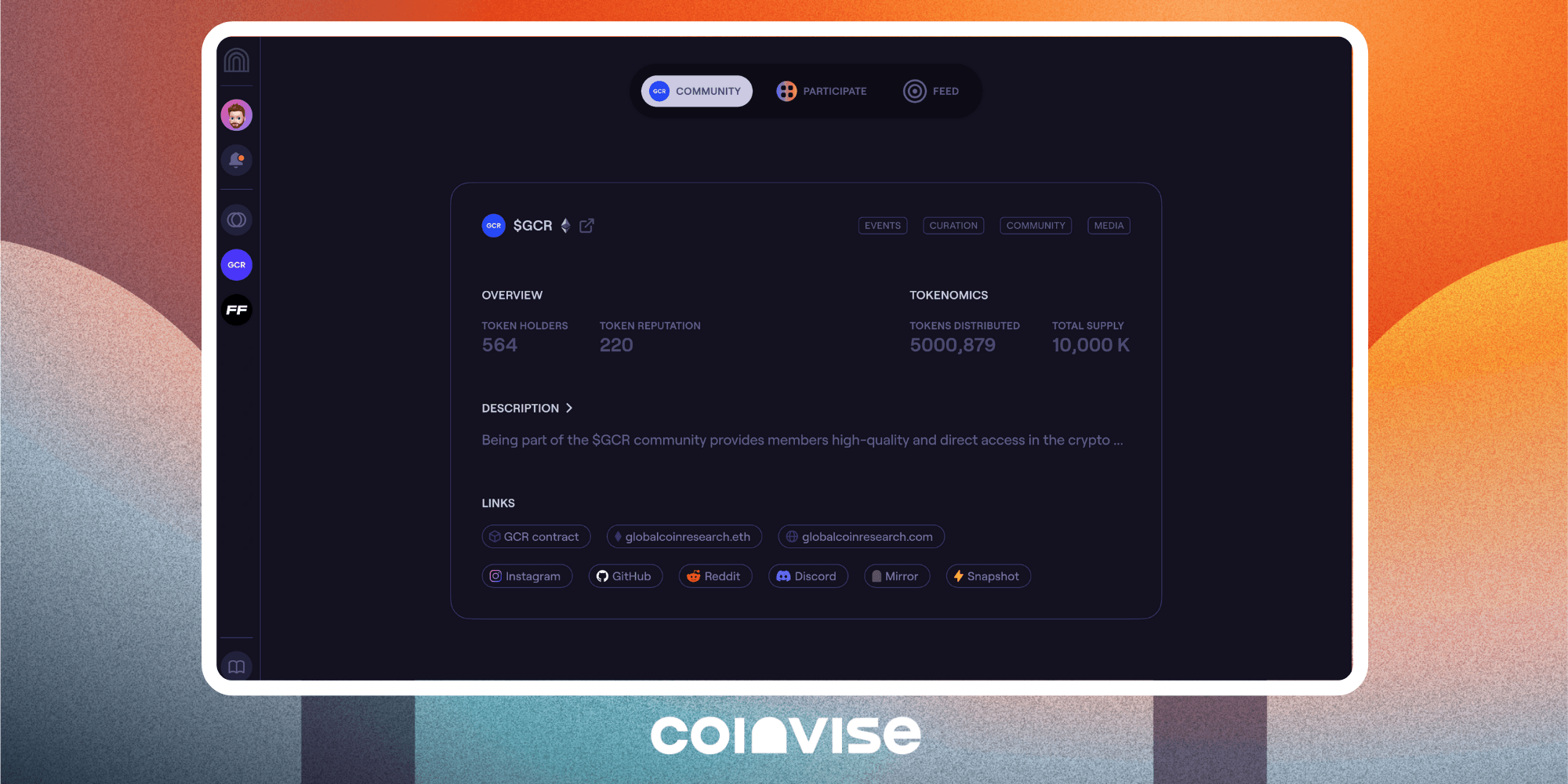 Participate — Get involved in 1-click
The participate tab lets community members quickly get involved in projects they want to join through easy access to the current Airdrops, Quests, and Vest from their favorite communities through widgets.
Participation Widgets are a new way for creators to bootstrap their community and incentivize members to get involved easily.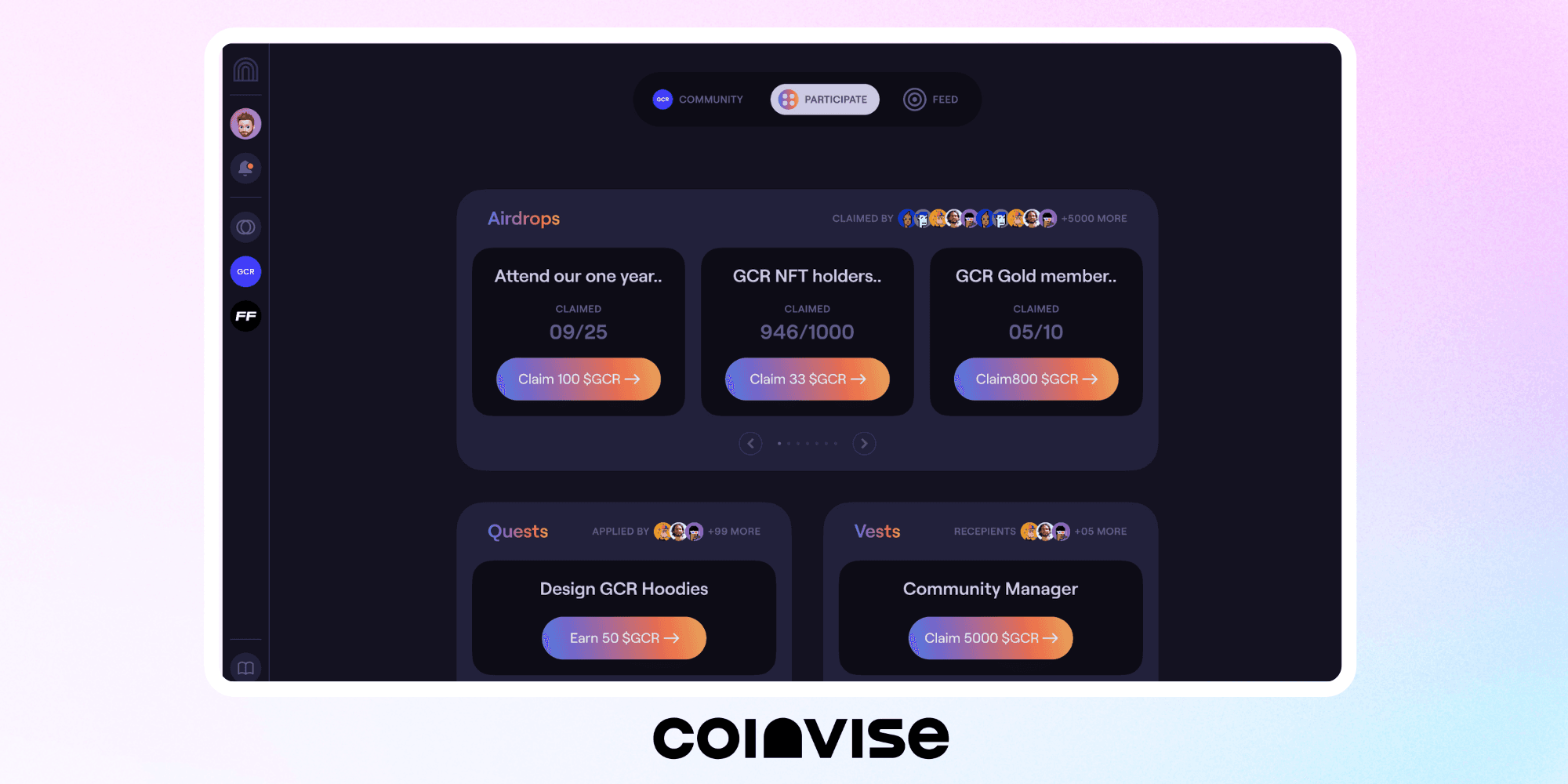 Feed — View Exclusive Updates & Activity on Coinvise
The feed tab is where you can discover and explore all the exciting things happening within the community.
We've made it simple to access all the latest on-chain activity. If you want to check whether a new bounty has been set up, or if the monthly payouts have been sent, you'll be able to access all the information you need in a well-designed, and beautiful feed.
We're building the homepage for web3, and the feed continues laying the foundation for how we get there.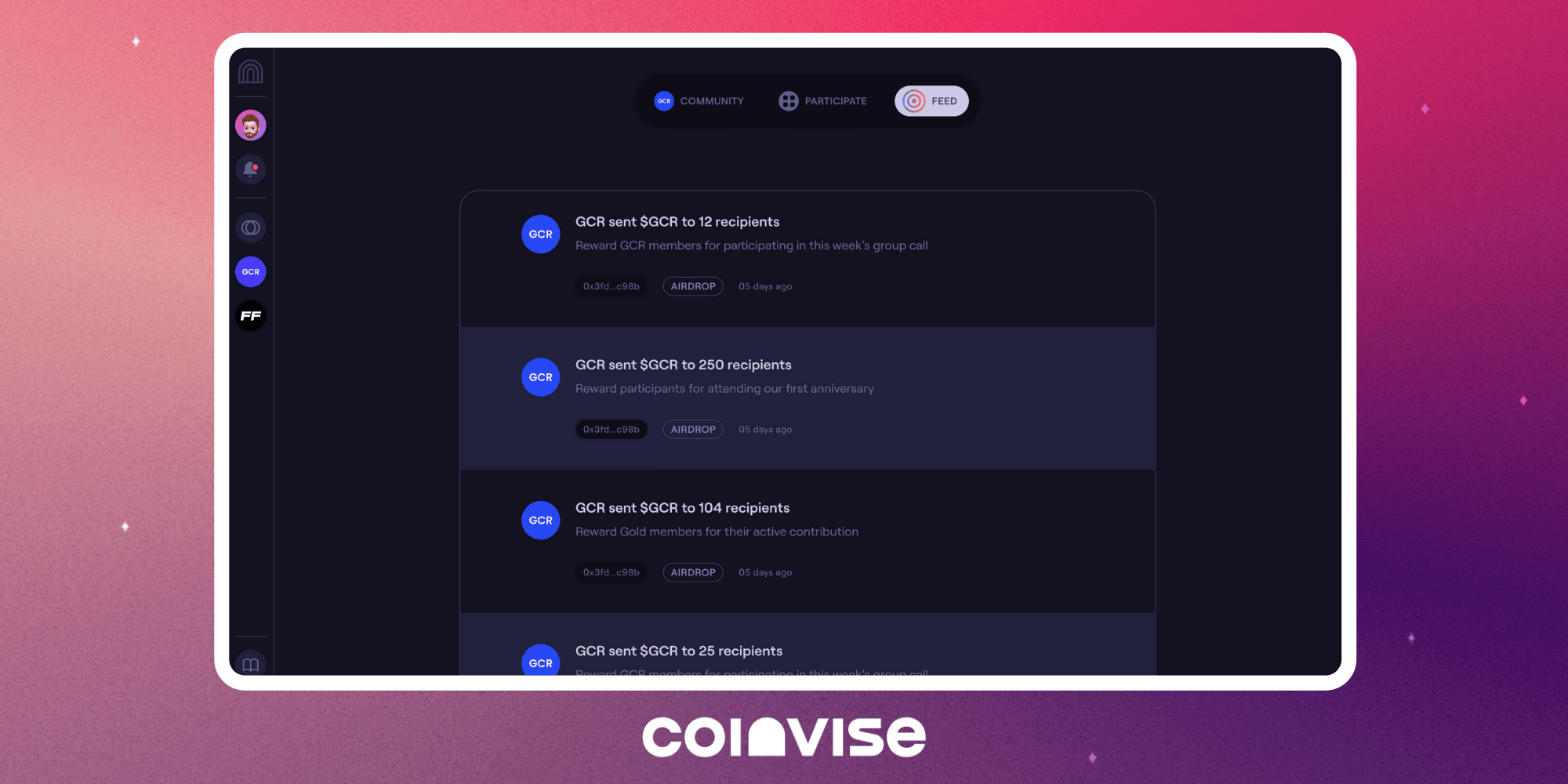 Closing thoughts
With Coinvise V3.1, we think we've built the most advanced, and beautifully designed, web3 Coordination Console. We've designed every feature to make it simple for creators to manage their tokens and community.
With these new coordination tools, we're aiming to help web3 communities scale through better onboarding and retention.
For Coinvise to succeed, we need everyone else to succeed. The growth, scaling, and mass adoption of web3 communities will follow only if DAOs solve the current issues around contributor engagement.
With V3.1, we're taking a big step forward in making life easier for creators and members on Coinvise through seamless community management and easier participation.
Try it out → https://www.coinvise.co/
---
Want to be the first to be aware of our latest updates?
Follow Coinvise on Twitter and activate the notifications - thanks for being here 🔥