Hey there! Coinvise is a web3 platform that helps creators & communities build and manage their Social Tokens. You can join the community here. If you find this essay interesting, make sure to subscribe to this newsletter and follow Coinvise on Twitter. Enjoy! 🔥
---
Because we've always understood onboarding the next million individuals in crypto will only be possible through education and seamless user experience, we're building daily new easy-to-use tools and creating content on how to use them. 
Through a series of episodes, the "Onboarding Series" will guide you in your journey to create a tokenized community, teaching you how to leverage the Web3 tools at your disposal through concrete use cases.
In this second episode of the "Onboarding Series," we're going to deep-dive into Airdrop.
At Coinvise, we've first developed the most needed tools to grow a community, and developing the "Airdrop" feature has been a no-brainer for us.
Indeed, Airdrop is an essential feature that allows community leaders to create awareness around a new project, grant access to token-gated content or channel, reward early believers of a project, among many other things.
1 - Protein - Token and Use-cases
Protein has been one of the first communities to leverage the Airdrop tool on Coinvise to grant community members access to their Discord and is a perfect example of what's possible to accomplish by using the Coinvise platform.
Protein is a community and incubator of ideas with the mission to re-imagine growth by offering education, expertise, and funding. Protein seeks to create a place that encourages and nurtures a new definition of growth, based on mutual collaboration, conversation, and community needs.
To achieve their high-ambition goals, the community leaders actually minted their $PRTN token on Coinvise using the Mint tool.
The $PRTN tokens symbolize one of the easiest yet efficient utilities for people to adopt with social tokens, which is access. The Token serves as proof of stake and an ability to be part of a community by holding a digital asset.
As of today, there's no way to buy the Token, and the only way to receive $PRTN is to receive an Airdrop from the community leaders. Indeed, they're trying to be thoughtful around making the token accessible to anyone and bringing in a financial incentive too early. Airdropping their tokens only to people who went through a screening process is good for avoiding speculation and ensuring a healthy community over the long term.
So how are the Protein leaders are actually doing to Airdrop their tokens? Let's find out together 🔥
2 - Leveraging Coinvise to Airdrop $PRTN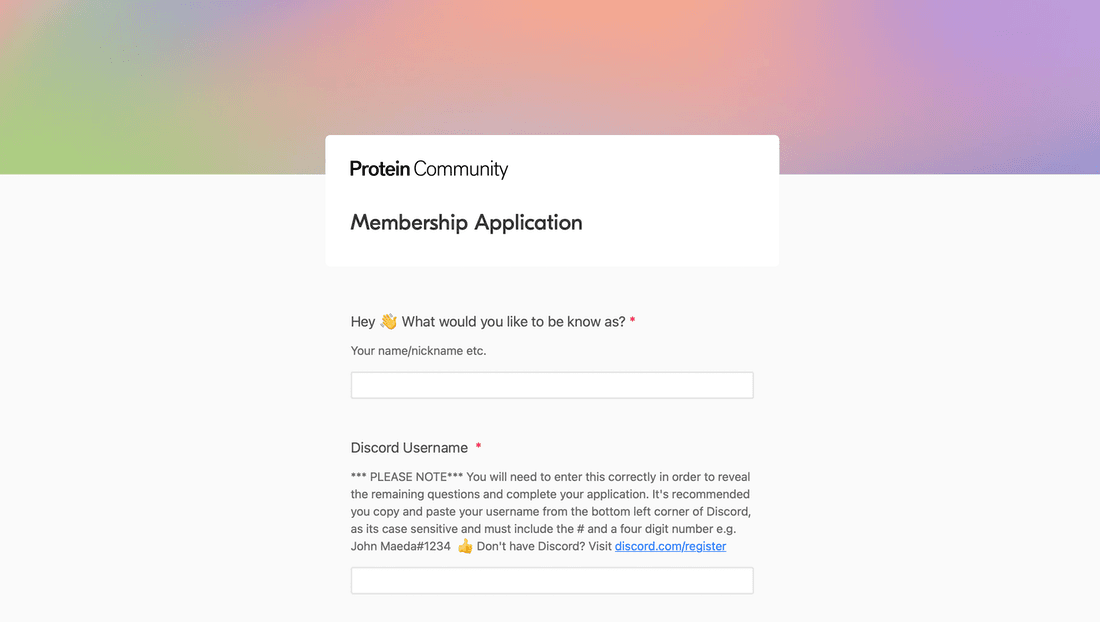 As mentioned above, today, you can join the Protein community only through a screening process. Anyone wanting to join the community will have to go on Protein's website and apply by filling in a form.
Through the form, they are collecting the ETH address of the potential new users, allowing Protein's leaders to send them later tokens and grant access to the new users.
This form serves as a whitelist and allows them to learn more about potential new community members, ensuring the high quality of the overall community.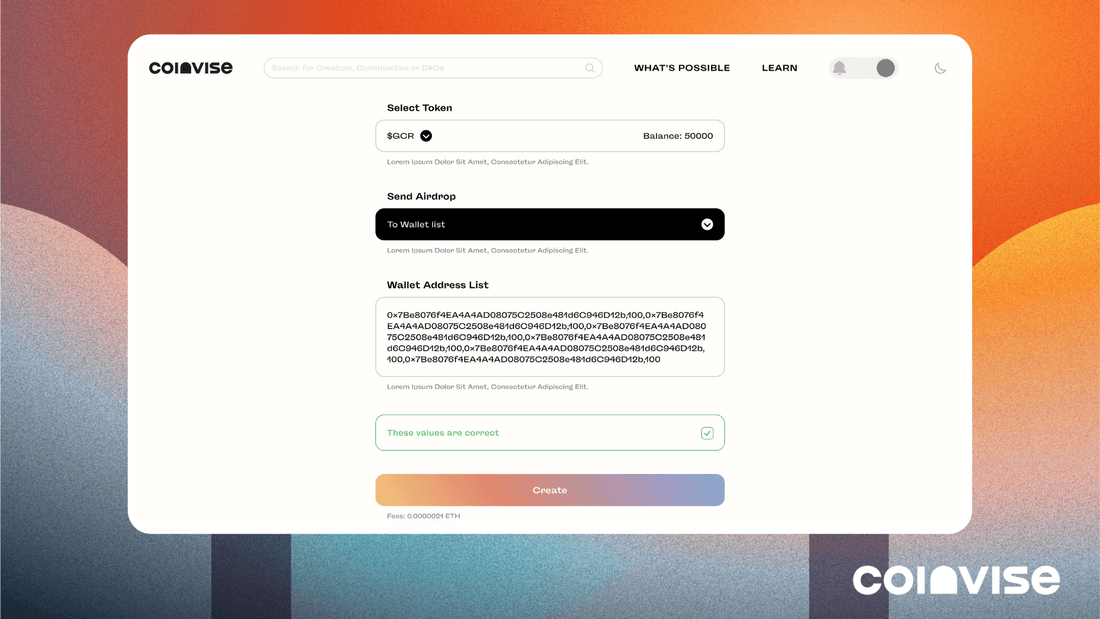 Protein leaders can then go onto Coinvise and Send an Airdrop to a Wallet List with the collected ETH addresses, as shown in the image above.
When sending an Airdrop to community members, community leaders have to pay Gas Fees. Gas Fees could be compared to a tip they have to give to the people securing the transaction on the blockchain. With a lot of demand, these gas fees can increase significantly. 
While you can't avoid gas fees on Layer 1, we worked hard at Coinvise to reduce the cost of these by 25%. Meaning if you plan to do an Airdrop, we recommend you use Coinvise to pay less as compared to doing it anywhere else.
And because we understand that some creators prefer not paying any Gas Fees, we've also created an easy "Bridge tool" that allows anyone to bridge a part of their tokens to a Layer 2 Blockchain on Polygon, allowing anyone to do airdrop with almost no gas fees.
Finally, creators have the option to enable gas less transaction for end-users. By leveraging Coinvise, creators can build a simple onboarding flow for their community, allowing members to claim the token easily without having to pay any gas fees. Here's what it looks like.
Finally, from the Dashboard on Coinvise, any community can track transactions & airdrops, making it easy for community leaders to find the previous airdrop transactions and the people who received the tokens.
3 - Understanding in-depth how to do an Airdrop 
It's now your time to create your first Airdrop and experiment with one of the many use-cases Airdrop provides. 
To help you understand better how to do an Airdrop for your community with your Token, we've created a complete guide with images, videos, and FAQs, that you can access below.
→ ACCESS THE AIRDROP STEP-BY-STEP TUTORIAL HERE
If you still have further questions about Airdrop, please join Coinvise's Discord and ask for some help from Eliot | Coinvise | PST#2942.
You should now be good to go! We hope this second episode of the "Onboarding Series" helped you understand better the possibilities of an Airdrop. Make sure to read the other episode here available on our Mirror publication.
---
Want more?
Follow us on **Twitter **and join us on Discord 🔥
Thanks for being here!